Today my hubby and I chose to dine on the main street in our town of Tavira. From the many great choices, we chose Bossa Tavira today as we had never dined there.
I did a quick booking using #TheFork to be sure we could get in, despite it still being winter. There seem to be quite a few tourists in town today. The weather is all out warm enough for shorts and dresses. The perfect day to wander about and take your time.
When we arrive at Bossa, Sandra the proprietor greets us warmly and offers us a pick of where to sit outside. We sit and immediately begin to chat like old friends do. Sandra is half Brazilian and half Italian. Given that the restaurant is located in Portugal, she laughs and says "yes, there is a bit of Portuguese influence in the food as well". Sandra learns that I am a wine and food blogger so we both are excited for me to come back with more time and taste some of the wines and entrees. We chat about some local Algarvian wines that she has sourced. A few are from Morgado do Quintão.
Just a brief sidebar, Morgado do Quintão is an estate winery founded in the early 1810s by the 1st Count of Silves. Sandra tells us that in addition to their award winning wines, they offer accommodations in the form of cottages where you can stay overnight. The property is beautiful she says and there are also a selection of experiences that you can book. While she speaks to these uniquenesses of the winery's offerings, she highlights they are leaders in their visions of the present and future. Gesturing to wait a minute, she quickly goes back inside as she has something from the winery that she wants to show us. She reappears with a playful smile and 3 wine bottles in her hands. The picture I took (below) reflects their inspirations. Later at home, I research this further and find this quote from Morgado do Quintão:
"At Morgado do Quintão, we were one of the first wine producers in Portugal to remove the name of our estate from front and centre of our bottles, allowing abstracted design to communicate our vision.

By understanding and reflecting on our cultural heritage and paying close creative attention to the artwork on our bold and graphic wine labels we are not afraid to tap into contemporary conversations and look at these important visual elements with a permanently renewed sense of interest.

We draw poetic inspiration from elements that inform our purpose; the big blue Atlantic, the Algarve's dramatic beaches, the Monchique mountains or the linear stripes that make reference to the uniformed, traditional arrangement of our old vines and the way we walk through them."

https://www.morgadodoquintão.pt
Decisions, decisions….
I start with one of the house white wines. I leave it to Sandra to recommend which one I should try. As it turns out I have had Castello d"Alba's white and red before. They both are on my #Vivino recommended wine list. Note, you can find me if you search for "wineflight".
This white from the Douro has some minerality with a nice floral undertone. The body is soft and slippery on the mouth through to the finish. I don't know the specifics of the aging but there are suggestions of warmed oak as well. Overall a very pleasing spring season wine. Paired with the risotto it was strong enough to stand up to the textures of the meal. Price: 6,50€ per glass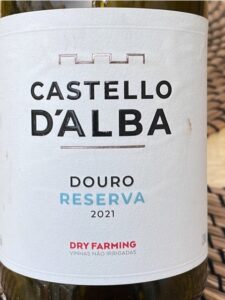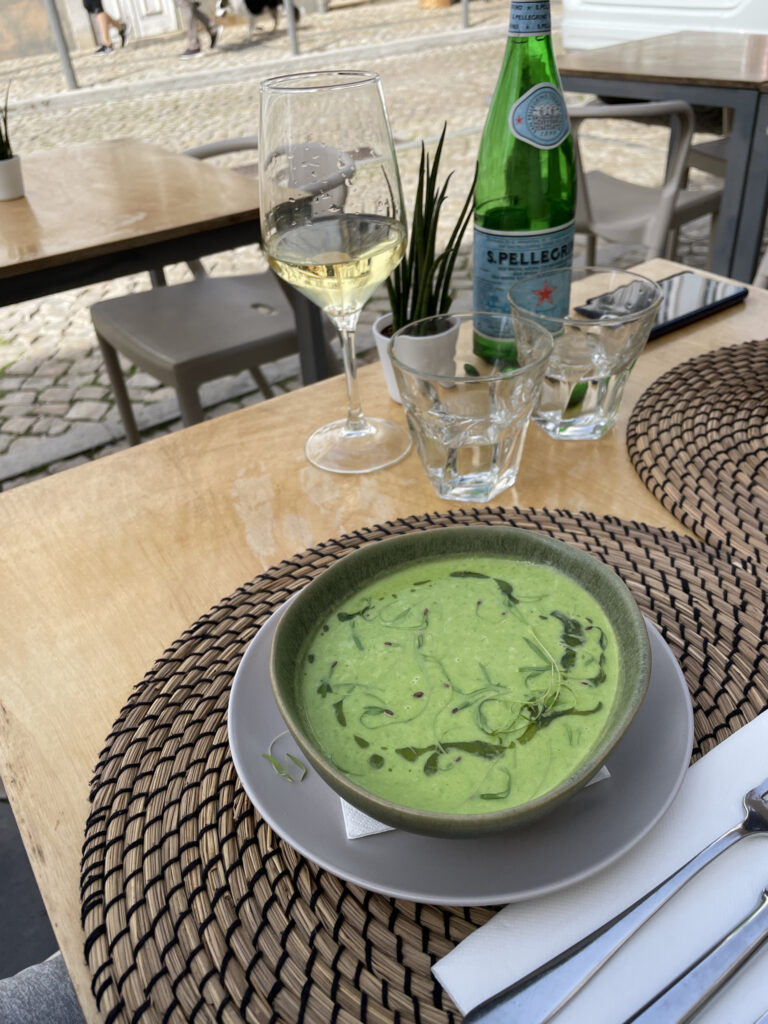 While not meant to be a wine review today, I refocus us on the menu items we have selected for our lunch. We first started with their Sopa Vegetariana do Dia: Pea Soup. The taste was as if the chef had laid down the flavours one over the other like strands until a slight mix with a spoon brought them together in a wonderfully delicate taste. Both my hubby and I really enjoyed this. It was served with a crunchy crostini brushed with EVOO. Price: 8€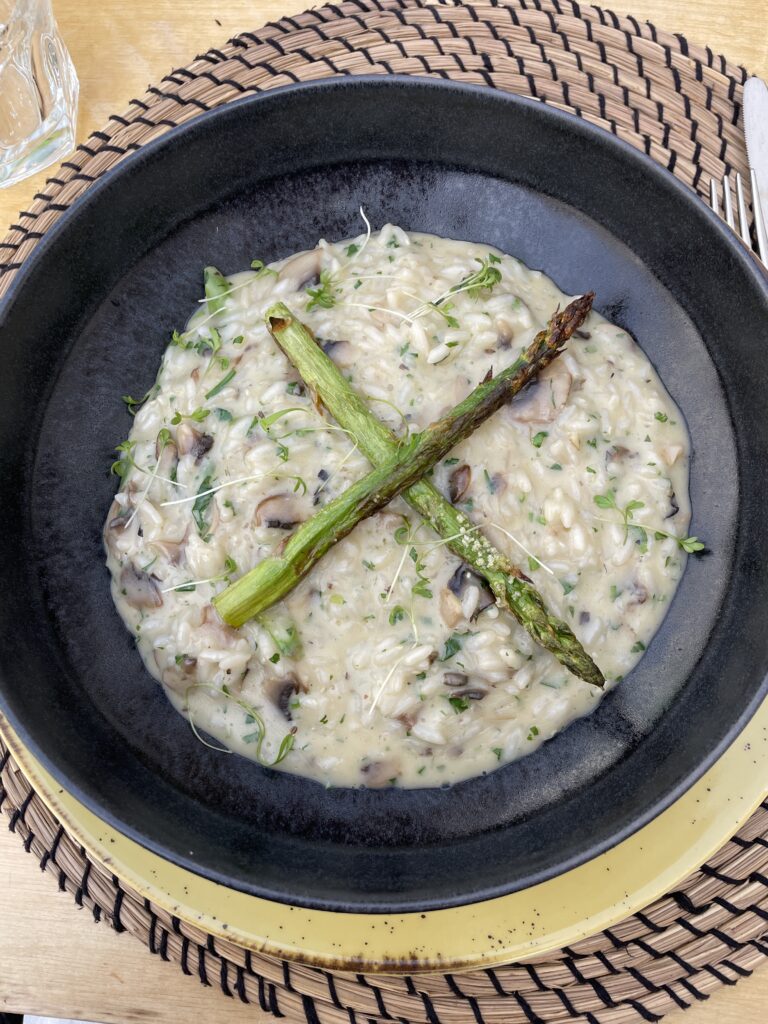 For our lunch entrees, I ordered the Risotto Bossa. It consists of a truffled Mushroom mix, pecorino foam with an overlay of grilled Asparagus. I am a bit of a risotto snob, pain in the neck??. Anyway, I have made many risottos at home and traveled far and wide tasting them. I've been in Italy when truffles have just been harvested. I know a great risotto when I taste it. This risotto was first and foremost hot. No one likes cold pasta, rice or risotto as is my case. It was a perfect temperature which enables you to really taste the creaminess and flavours. Well seasoned as well with a good balance of mushrooms and truffle seasoning. With truffles, enough is a balance. I have been "truffled" to the point of not being able to eat a dish so again. I show my risotto snobbery, I guess. All in fun of course. I would order this again it was excellent. My husband tasted it as well and thought the same. Price: 18,00€
The entree he chose was Linguine with Shrimp. Since I don't enjoy shrimp, I did not taste his. He said it was well prepared and flavourful. One small comment would be to perhaps increase the number of shrimp from 3 to perhaps 5 and add a bit more linguine to match. He wasn't looking for an American size meal but felt for the value, there should have been a bit more. He too would order it again and highly recommends it. Price: 16,50€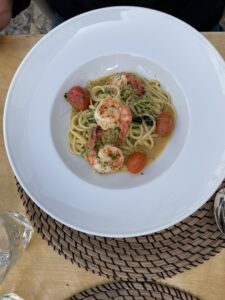 While we were offered dessert, we both declined and closed out the check. We promised to come back for lunch again soon and for their dinner menu (with friends of course!). The dinner menu is much more extensive so more decisions in our future. For now, Grazie Mille, Sandra and team for a wonderful experience and meal.

Bossa Tavira
Rua da Liberdade, 47
Tavira, Algarve
+351 962 110 276
Alessandra de Albuquerque