After visiting Monsaraz we take the roughly 50 min drive back to Évora where we are staying for a few days. I was eager to reserve that night's dinner. Since it was dreary weather and it was not the height of tourist season, we were able to reserve a table at Bruxa D'Évora (Witch of Évora). I was very intrigued by the restaurant's name and to learn the backstory.
A Witch you say?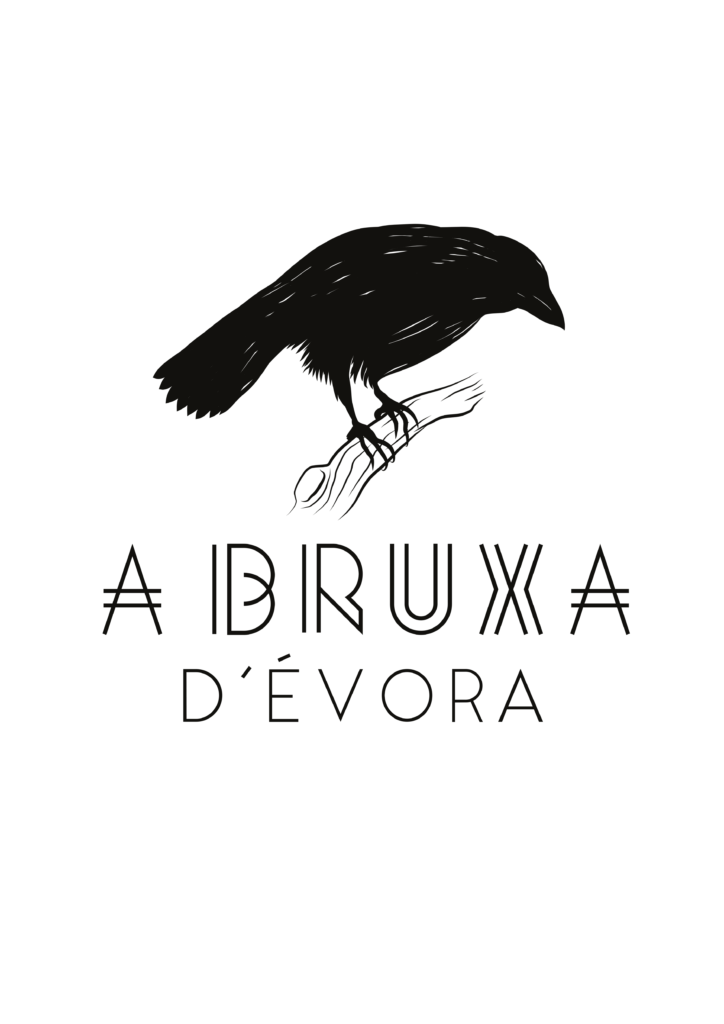 This magical legend is about the Moorish sorceress, Lagarrona the Witch of Évora. Lagarrona apparently was well versed, spoke many languages, was well traveled and highly literate so she was no ordinary street witch. She even had the requisite big fat black cat named Luzbel. She was something of a matron for practitioners of sorcery. Watching over the spell processes and instructions on potions she had many followers. By that fact, she came to know a wizard by the name of Cyprian of Antioch. It's believed that Lagarrona taught Cyprian much of her sorcery and he became somewhat of a disciple of hers. Cyprian, before his death had accumulated a number of potions and culinary recipes. He bequeathed these to Lagarrona. Later on Lagarrona, herself had an untimely death due to her own missteps. She was preparing a potion (perhaps one of Cyprian's?) and managed to do herself in. Now skip to present day, Chef Luis of A Bruxa D'Évora and the co-owners, António and Daniel will assure you that while the legend of Lagarrona lives on, their recipes are all their own! [source: heavily abbreviated from https://abruxadeevora.pt & elsewhere].
Not witchcraft, just fate….
Started in 2017 it took two years for António (left in picture) and Daniel to build out their vision for A Bruxa D'Évora. As fate would play a role, C19 took over and in 2019 as things worsened with C19, they had to close their doors. They have since reopened to continue their successful journey here in Évora. Chatting with Chef Luis, they are currently working together on a new seasonal menu starting mid June. For their spacious outdoor venue, they will also have a new tavern menu. It's important to highlight that seasonality plays a key role in their concepts and ideas for what to offer. Luis emphasized that 85-90% of the Ingredients that he uses are sourced locally. With those numbers you can be assured that what he prepares is nothing but the freshest.
Perfect potions, uh portions!
I had reviewed the current menu beforehand. I also read it aloud to Hal while we drove back from Monsaraz to Évora. The menu had so many choices that we would enjoy that I knew this was a great selection on where to eat. We arrived on time and were seated in a very nice area of the dining room. The tables were spread out so pleasantly far apart that you could not hear any other conversations around you. Our server, Nhouza introduces herself and we chat. We learned that she is a University of Évora PhD student. She came to study here from her native Tunisia. We laughed about the fact that Hal & I while having been to Tunisia, we had only visited there for a few hours! Certainly not enough to see anything of her country or be familiar with it.
Happy to get us started, Nhouza takes our order for a covert and appetizer. We noticed while enjoying our covert together that the olive oil they serve was unlike any we had tasted before. Forewarning since our many past travels to Italy and Greece we are a bit "particular" about what EVOOs we love. This one had a velvety smoothness and a really good depth of flavour imparted when dipping with our bread. Some EVOOs, can be rather benign and dull frankly. We asked Nhouza to show us the label so we could maybe order it. More about this amazing olive oil a bit later.
Beverages were also decided with Hal deciding on a cocktail. He was wanting some type of whisky cocktail. Nhouza resourcefully elicited the help of António who prepared an off menu Whisky Caipirinha for Hal. That's Hal enjoying his special cocktail.
The first course appetizer we selected was Queijo amatelgado da região (soft cheese from the region) accompanied by a compote caseira (homemade jam) and toasts caseiras (homemade toasts/crackers). It was a great light starter that had many complimentary textures to it. There was a generous portion of cheese to crackers and the homemade apricot compote rounded off the salty flavours very well.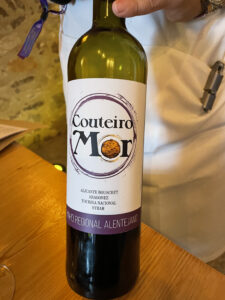 Since Hal was not drinking wine, I chose what would pair especially well with my meal. Since I knew I wanted to order lamb (borrego), I found this red that had a blend of Alicante Bouschet, Aragonez, Syrah and Touriga Nacional. I have noticed over my years here in Portugal that the addition of Syrah to some of the Portuguese red wines, softens the flavours and this appeals to me. Syrah has a similar wine profile to Touriga Nacional in terms of its acidity, flavour profile and tannins. I can't say what the ratios are for these varietals but after tasting, I do taste the Syrah.
I later studied this winery some and they are a relatively young grower and producer. Started in 1988 selling their first grapes, they started their own production and have since produced their own wines starting in 1993. Today they have five estates in the Alentejo region and one in the Algarve close to the River Guadiana that borders Espana.
Couteiro Mor produced by Herdade do Menir
Nothing sinister about this
For my main course I ordered the Borrego à alentejana, com puré de batata doce e legumes (lamb shank with a sweet potato puree and seasonal vegetables). Hal ordered the Bochechas de porco preto alentejano (Alentejo Black Pork Cheeks), estufadas em vinho tinto (simmered in red wine), com migas de espargos e legumes (regional dish of potato puree and seasonal vegetables, in this case broccoli). Both were cooked perfectly and thoughtfully plated. I think the pictures speak for themselves. Did we finish them? Yes!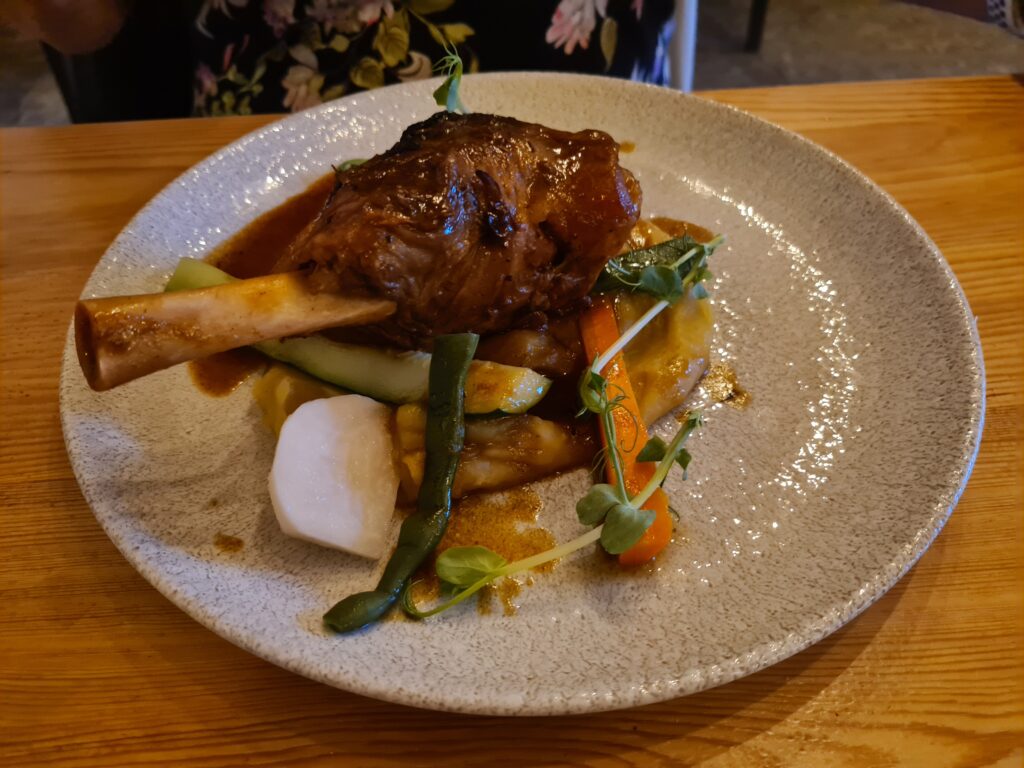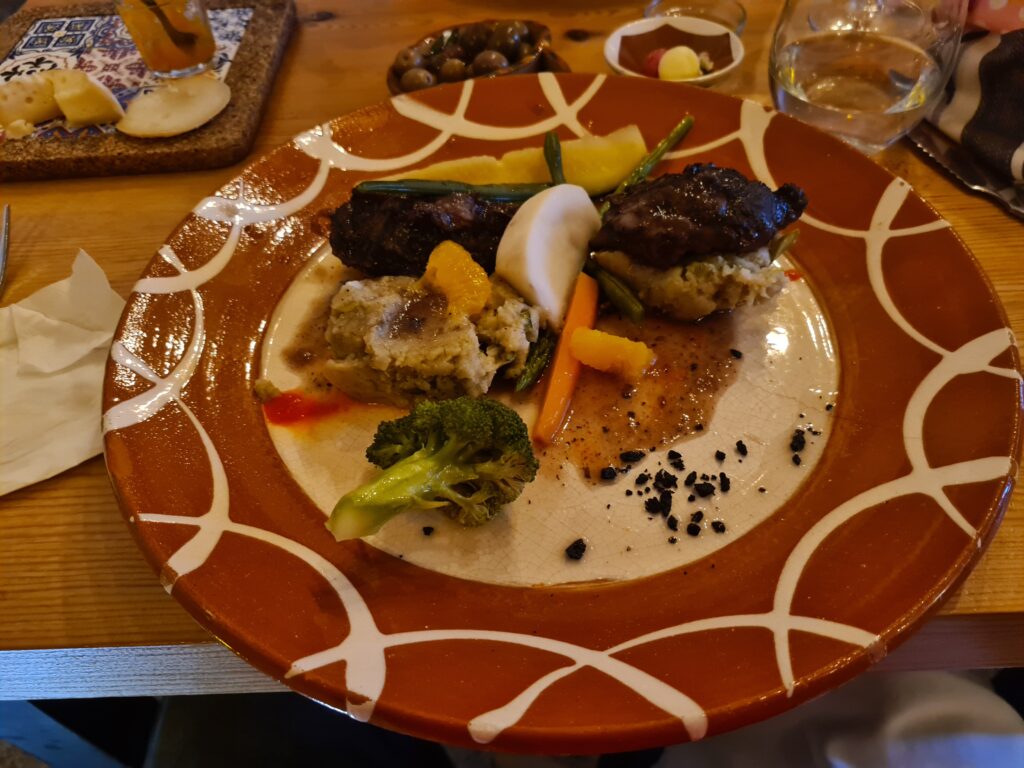 Magic finish
After our meal we stayed for dessert and a digestif and a nice chat with our other server, Fernando. Fernando hails from Mozambique. He too is studying at the university however his chosen goal is to complete his agricultural studies and return to his homeland to grow cotton. Such interesting journeys each student is taking. We wish them well.
Focusing on our dessert, we sampled the Triologia de doces conventuals com sorbets de tangerina (a trio of conventional sweets with tangerine sorbet). Their names left to right are Sericá, Manjar Real de Mourão and Bolo Morgado.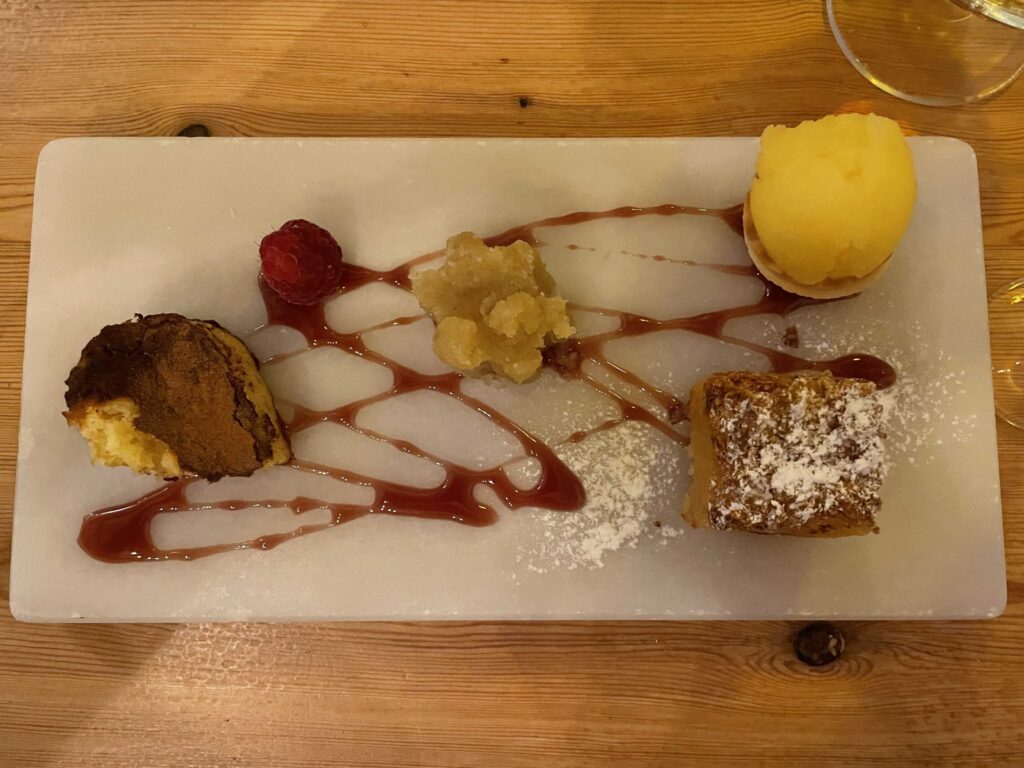 The Portuguese people are proud of their heritage and rightfully so. Understandably then the inspiration and names for these enjoyable Portuguese treats that we tasted are grounded in history. Serića, the name originating from many convents in this area in Portugal. Mourão for instance is a village close to Évora. Morgado loosely translates to an heir or one who inherits an asset of value.
To compliment our dessert, Hal chose a brandy from the same winery as the one I had for our meal. Herdade do Menir produces a brandy called Couteiro Mor Old Brandy. Loosely translated from the bottle, this brandy was made from the grapes of Castelão and Trincadeira varietals. Harvested in 1991 and 1992 and aged in Portuguese oak barrels until late 2002. The second digestif was complimentary courtesy of António as he noticed that I didn't really enjoy the brandy. He chose a 2018 Colheita Tarda (late harvest) white wine from the Lisbon area called Casal Sta. Maria. I found the late harvest wine pleasantly sweeter than the brandy for me. Thanks Antonio! Side note, I added a link to this winery as the journey of its founder is fascinating to read. Who starts a winery at 96 years old?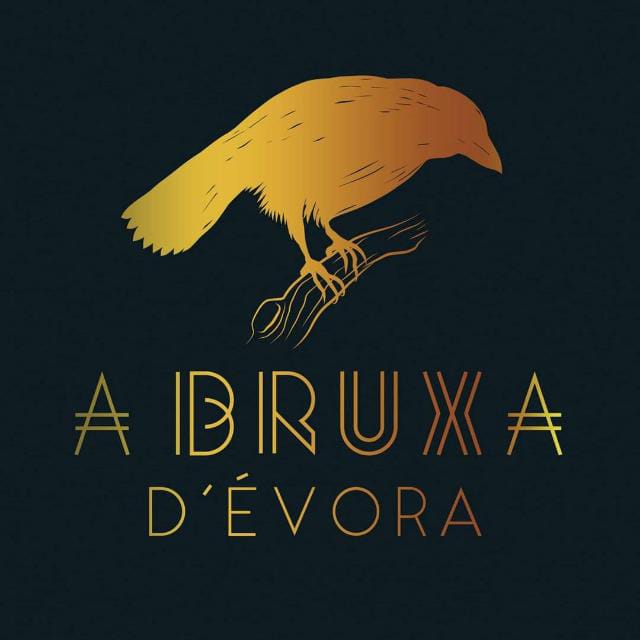 After our meal António took us over to another area that leads out to their outdoor dining so we could chat. Daniel was there also although I noticed just as earlier, he is still came and went a bit ensuring a very smooth flow of service in the dining area. Luis shortly after came out from the kitchen too. This is when we learned from each of them what I spoke about earlier in terms of their challenging start and plans for the future. We also chatted about our meal and about how lovely the servers were. António smiled and pointed over to Daniel to say, he's in charge of training them! We laughed and agreed he has done an excellent job as demonstrated by their knowledge of the menu and their ease of service.

We asked about the olive oil, Herdade da Gateira and António was happy to share its history with us. As it goes, a dear friend of theirs, António Pires recently inherited his father's centuries-old traditonal olive groves here in the Alentejo region. As an homage to his late father and ancestors, Mr. Pires decided he would continue this age old tradition and produce a cold-extract and unfiltered olive oil. The result is one of the best olive oils in the world that I personally have tasted. I asked António how he would describe its flavour. He said "…for me it is a taste of Alentejo itself, and one of the most pure olive oils I have ever tasted". Given the close relationship with their friend Mr. Pires, they sought him out to ask him to exclusively produce this special olive oil for their use here at A Bruxa D'Évora. He accepted and now this "liquid gold" is only available to taste and enjoy here at their restaurant!
When it's was time to leave for the evening, Antonio graciously offered us a bottle of this unique olive oil from their very limited supply. What a gesture of friendship and hospitality! We were so grateful to take this home as a gift.
Hal and I would like to thank all of the staff at A Bruxa D'Evora including: Nhouza, Fernando, Luis, Daniel and António for a wonderful and memorable evening together.
Cheers!
Chris
curlyhairgirl